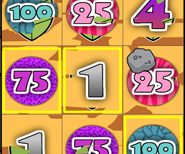 Overview
Scratch tickets are a simple game which can be enjoyed on their own or as a mini-game during a bingo session.
Overview
Scratch tickets are a popular game which can be played along-side the bingo sessions. In a typical scratch ticket, the player must scratch the game card to reveal numbers or symbols. These numbers and symbols relate to prizes which can be won. When a player matches 3 of the same value, they will win the associated prize. Scratch tickets are very easy to play and includes fun animated characters with astonishing details.
Scratch Ticket games utilize Adobe Flash technology, giving the player the ultimate experience in terms of performance and graphics. Thanks to the portability of Flash, users can play from virtually any system without the need of any additional software.